Buy Amazon Seller Account Today – We Have Amazon Seller Accounts for Sale
We Sell Verified, Professional Amazon Seller Accounts
To put it simply, you can get a fully verified USA/UK/EU Amazon seller account from us even if you were banned or suspended before (or you just want to a buy a new Amazon seller account).
So, we sell:
USA, UK Amazon sellercentral stores (accounts) that are fully verified by Amazon.
Amazon accounts that are "immune" from utility bill request/review.
Accounts that already have passed the utility bill review.
Accounts that are slightly aged, have a few sales and may or may not have some feedback.
What we need from you if you decide to buy an Amazon account from us?:
To be fair, practically nothing, apart from your payment. We are a "full service, everything done for you" company. Imagine it as a 5-star hotel — we strive to get our customers fully covered and provide everything that is needed stress-free and as quickly as possible.
We won't need your documents, your utility scans, your credit cards or any of your personal information. We get EVERYTHING done for you. All you need to worry about is what you will sell and focus on your Amazon business. We send a guide explaining how to use everything and how every piece of information you get works in terms of your business.
---
How Much Do These Amazon SellerCentral Accounts Cost?
Our Amazon accounts costs fluctuates from time to time, so we won't be publicly displaying it. Especially, if clients have some additional or special requirements.
If you want to find out the pricing and terms — feel free to fill out our contact form (we promise to do our best to answer in 1-12hrs max.). Or just message us via Facebook messenger (on the bottom right of your screen).
Contact us now to order your Amazon account
Why Would You Buy an Amazon Seller Account From Us & Not Create One Yourself?
We get this questions from time to time. Although, majority of people who decided to buy an Amazon account from us — already know the answer…
A lot of people underestimate that registering to sell on a platform like Amazon — isn't the same as registering on Skype or etc. Amazon looks at new seller applications very seriously and carefully. There are a LOT of moving parts in that process (even those that are not visible on the front-end).
So in order to get approved and successfully registered on Amazon's SellerCentral — everything has to be pretty perfect, and sometimes you need a bit of luck too.
Our main customers who buy accounts from us are:
Completely new sellers that don't want to risk and get their name banned on Amazon forever;
New sellers that were denied to sell on Amazon;
Existing sellers that have been banned/suspended on Amazon and lost their accounts, but want to get back to selling again.
Existing, experienced sellers who already own 1 or more accounts but want to get even more accounts in order to increase profits, and decrease risks.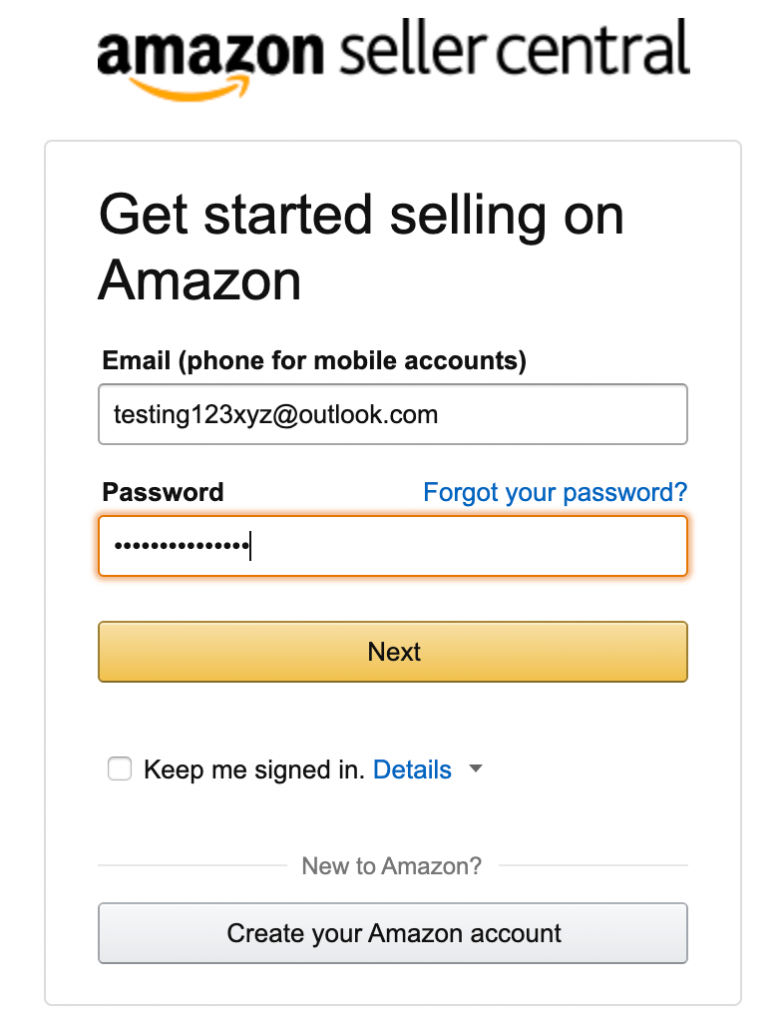 What Is Included In the Amazon Account Package?
We include everything that is needed for you to fully operate and have complete access to your Amazon seller's account.
To put it simply, you will get:
Fully approved account that is ready to sell right away;
Included credit card;
Professional subscription fee ($39.99) already paid by us;
All email, recovery email logins and etc.
Basically, you will get everything and every piece of information we ourselves had when registering the account.
What Kind of Amazon Accounts Do We Have For Sale?
We mainly sell fully verified and ready-to-be-used Amazon sellercentral accounts. Both UK/EU and USA. Also, we might get you an account for UAE, Australia and etc.
USA Amazon accounts are able to sell in:
USA marketplace — amazon.com
Canada (CA) marketplace — amazon.ca
Mexico (MX) marketplace — amazon.com.mx
UK/European Amazon accounts are able to sell in:
United Kingdom (UK) marketplace — amazon.co.uk
Spain (ES) marketplace — amazon.es
Italy (IT) marketplace — amazon.it
France (FR) marketplace — amazon.fr
Netherlands (NL) marketplace — amazon.nl
Sweden (SE) marketplace — amazon.se
Poland (PL) marketplace — amazon.pl
Germany (DE) marketplace — amazon.de
I Need An Aged Amazon Seller Account With Feedbacks (& Ungated Categories) – Is It Possible?
Short answer — yes and no.
It will ultimately depend on your budget and what you need.
First of all you need to understand that good aged accounts with good metrics cost A LOT OF MONEY.
For example, a really great account can cost anywhere from $3000 up to $10,000, $50,000 and even more!

BEWARE!
There are a lot of SCAM SITES out there promising you the impossible — aged amazon accounts, with lots of feedback, categories ungated for just $1000-3000 USD. Which is completely unrealistic.
First of all, there are dozens of gated categories on amazon. Just 1 category ungating can cost anywhere from $400 to $5000+. Now imagine multiplying that by 10x — and you expect someone will sell you that kind of account for $1000 or so? You can do the math.
And we're not saying those accounts don't exist. They do, but prices are accordingly high. We really urge you to go to empireflippers.com — select Amazon stores/businesses and check out the REAL pricing for high-value accounts.
However, you you're a newbie seller — we don't even recommend getting an aged account for several reasons.
But if you insist — please contact us and let us know — we might find something slightly aged at least.
Why Should You Buy Amazon Accounts and Trust Us?
---
Frankly, we've been in Amazon business (selling and creating accounts) for more than 4 years now.
We've had hundreds upon hundreds of customers and 99% of them been happy with our accounts and service.
We have a loyal customer base who purchase from us on a constant basis (they are large sellers on Amazon).
Throughout the years — we had literally 0 negative feedbacks or reviews. We guess this is because:
We always strive to fully accommodate our customer and leave them 100% happy
We provide full after-sales support and don't disappear after making a sale
In case there is any kind of problem — we always try to fix it the best way possible
We understand there are some scammers in this industry and frankly we receive messages from time to time from people saying that they were scammed and they don't trust anyone anymore. This is basically because they either fail to do their due diligence or just buy something that is completely unrealistic, hoping that somehow it will 'work out'.
If you have any reservations — it's completely normal and we can provide you with some proof of our work with previous customers — just please contact us and let us know.
You can also check our Trustpilot page for our recent client reviews.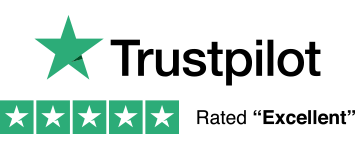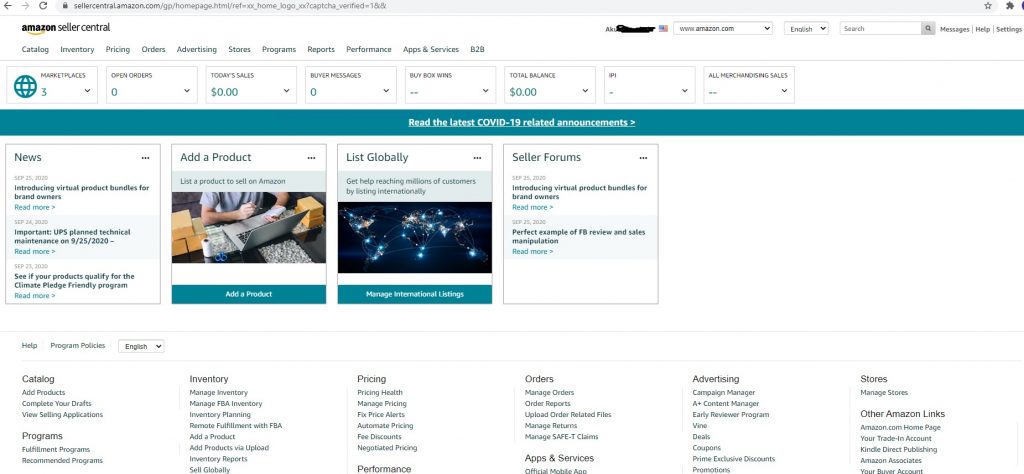 FAQs About Buying a Sellercentral Account on Amazon
Is Selling on Amazon Free?
Selling on Amazon isn't 100% free, but it costs very little, which is why many people opt to sell their products on this website. If you choose to register on the Individual plan, you only need to pay $0.99 per item. Nonetheless, if you sign-up for the Professional plan, you need to pay $39.99 monthly, but you can sell as many items as you wish.
Still, you need to consider the referral fees Amazon collects on each sale. This may represent a certain percentage of the total price and varies depending on the product category, so we advise you to do some additional research.
How Do I Open an Amazon Seller Account?
In order to open an Amazon Seller account, you must follow these simple steps.
Go to https://services.amazon.com.
Click on "learn more" and search for the pricing tab to compare the prices of each account type, as this is going to help you decide which one suits you better.
Now you can choose your preferred plan. Keep in mind that the Individual plan is the best for you if you plan on selling less than 40 products per month. Otherwise, the Professional plan is sure to help you save money.
The next step is typing in your data to create a new account and going to your email to verify you input the correct data.
Once you have approved and verified your account, you must choose your business location and type. Moreover, you must also submit your full name, as this is going to be verified in the following steps.
Now, you are going to be asked to submit several personal details and legal documents to verify your identity. Please make sure to only submit factual information, or your account could get banned.
The next step is entering your billing information. This is crucial so you can get paid and withdraw your earnings whenever you see fit.
Now that your billing information has been confirmed, you can add your product's information to the store. However, you are going to need to answer several questions before doing so.
Finally, the last step is verifying your identity. In order to do this, you are going to need to upload images of your ID and proof of address. Then, all you have to do is wait for your documents to get verified so that you can start selling on Amazon.
Can I Sell on Amazon without a GST Number?
Since 2018, the ASSPL has been required to collect 1% of the net value of all taxable sales executed on the online store. This is called "Tax Collection at Source" or TCS, which is reported every month to the respective authorities. Therefore, sellers can use their TCS credit to lower their Goods and Serice Tax liabilities, which demands them to get GST registration if they sell taxable goods through Amazon.
Can I Sell on Amazon from Home?
Yes, one of the most incredible things about Amazon is that it has helped thousands of people all over the world start an online business from home, as all they need is to have a computer, smartphone, and internet connection.
Moreover, registering on Amazon is pretty simple, so anyone can do it without hassle. Therefore, if you've been thinking about becoming an Amazon seller, nothing is stopping you from doing so!
What Documents Do I Need to Sell on Amazon?
Although registering on Amazon is pretty simple, you still need to collect several documents to ensure your account is correctly verified, especially if you live in the US. Some of those documents are your business information, your state tax ID, and your personal ID.
Once you've gathered all this data, you can submit it during the registration process and start your new online business.
How Much Commission Do Amazon Sellers Pay to Amazon?
Another great question that new Amazon sellers tend to have is how much commission they are going to pay. In summary, sale fees range from 6% to 45% depending on the cost of the product, and each seller must pay around 15%.
Moreover, account fees can go anywhere from $0 to $39.99 per month, but you must also consider the creation and shipping of your products, which is going to vary depending on the things you're selling and their materials. Therefore, you must consider all of these aspects before creating a budget for your business.
Do You Need a Business License to Sell on Amazon?
Amazon isn't like other businesses, so you don't need a business license to sell your products on its platform. Virtually everything that's sold on this platform isn't federally regulated and doesn't need government approval.
Therefore, you can open a seller account and start your business without hassle.
How Long Does It Take to Get an Amazon Seller Account Approved?
Several other websites can take a long time to approve their accounts, but Amazon has highly effective processes that allow it to verify each account in less than 24 hours. However, you must be sure to input the correct data during the registration process. Otherwise, your account may take longer to get approved. Or if you miss something important — you might be disapproved and never allowed to re-apply ever again.
Do Amazon Sellers Pay for Shipping?
Something that not many people consider is that sellers need to take care of the shipping of their items, including the wrapping and packaging of the pieces, as well as the shipping costs. Therefore, you must add this extra cost to your budget when pricing your products so that you don't lose any money.
Does Amazon Take Care of Sales Taxes?
The short answer is yes. Amazon takes care of calculating, collecting, and remitting all taxes that result from the sales done by the merchants on its platform. This takes a massive weight off your shoulders, as you don't need to worry about collecting taxes on every single item you sell.
However, remember that you still have to report your Amazon sales as an extra income in your yearly taxes if you don't want to get penalized by the government.
Can You Buy An Amazon Seller Account?
The answer is yes. People buy an sell their Amazon accounts all the time. Whether it's an aged account or a new one. You can always buy your account from us.
Is It Legal To Buy An Amazon Seller Account?
Of course. Even though there are some terms and conditions written by Amazon where they say it's not allowed — but Amazon is not above the constitution. That's why people constantly sell their accounts sometimes reaching millions of dollars.
Can I Sell via FBA With Your Accounts?
Certainly. Our fresh amazon accounts are fully verified and approved to sell both via FBA and FBM. We have sellers doing dropshipping, 3PL dopshipping, fba and whatever else you can think of.
---
Contact Us Now to Order Your Amazon Account
If you're interested in an Amazon seller account — please contact us filling out the form below. We will do our best to get back to you within ~1–12 hours max.